…………………………………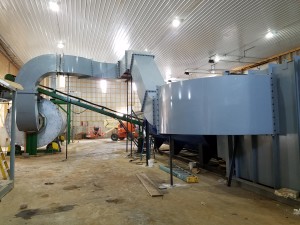 —————————-
August, 2017:
Project has been in operation since May, 2017. We have been running using cow, chicken and turkey manures, as well as chicken and hog compost, as fuel.  We are awaiting growth results from EcoChar that has been spread on 240 acres of local cropland. When the Organic Rankine cycle is delivered, we will begin generating electricity.  For a video overview of the system, click here.
March, 2017:
Installation continues, system will be operational in April.
Installation of equipment still in progress.  All primary components have been delivered to the site.
November, 2016: 
Installation of the gasifier began in early November. System start-up is scheduled for January.
October, 2016:
Installation at RVF in Orleans is scheduled to start on November 7th.  All necessary permits have been aquired, and the concrete has been poured for the equipment. Gasification system is fabricated and ready to deliver.
April, 2016:  This system will process manure from various animals – swine, turkey, and chicken.  This process will also generate power through the use of an ORC (Organic Rankin Cycle) system.  Much of the design and engineering work has been completed, and major components have been ordered. The fabrication of the gasifier and oxidizer has begun.  Site preparation work should begin in late April.