Synergy Solutions is currently operating a municipal sorted waste (MSW) processing and recycling facility, along with an ethanol processing plant, in Cordele, Georgia.  The gasification project will be utilizing the organic portion of the MSW (food waste, cardboard, and paper) to produce heat for drying the material, which will then be utilized as fuel. Another revenue stream resulting from this project will be the production of biochar.
The design of the gasifier itself, as well as many of the additional components, will be similar to the cow manure gasification system currently operational in Ohio.  For this project, however, the design has been upgraded to increase the system's throughput. Operational capacity will be between 5,000 and 6,000 pounds per hour of 25% moisture material.  See below for photos and progress updates.
Update, April 2016:  The installation of this system is complete and is being commissioned.  The customer is not quite ready for operations to begin, but the system should start shortly.
Update, November 9:  Gasifier, oxidizer, and blend chamber are installed. Drum dryer will be installed next week.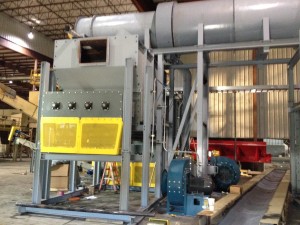 Update, October 21: Construction continues.  Electrical installation has begun and power is installed for the gasifier.  Blend chamber and dryer will be installed at the end of October.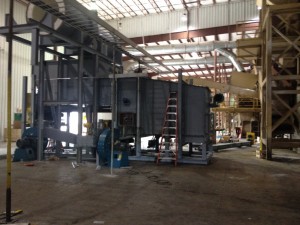 Update, October 1: The gasifier installation is complete.  The oxidizer and blend chamber will be installed mid-October.
Update, September 11: Installation has begun on site.  See pictures below.
Update, August 15th: Fabrication of gasifier and oxidizer continues at Lee Mechanical in Park Hills, Mo. Refractory installation also currently in-progress. First component delivery to Synergy's facility in Georgia to be made the week of August 24th.  Installation will begin at that point.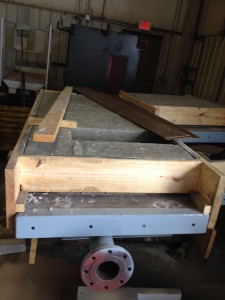 Photos from original project update: